Anyone who has been accustomed to looking at the sky knows that in early 1999 the chemtrails began making almost daily appearances in all these regions, turning the sky into a big tic-tac-toe game, with sometimes six or eight white, very quiet jets seen at any given time, all day long, flying at altitudes far too low to leave contrails.. The United Nations is the only organization I'm aware of that flies white, unmarked aircraft and the spewplanes fly low enough to be easily dentified with binoculars.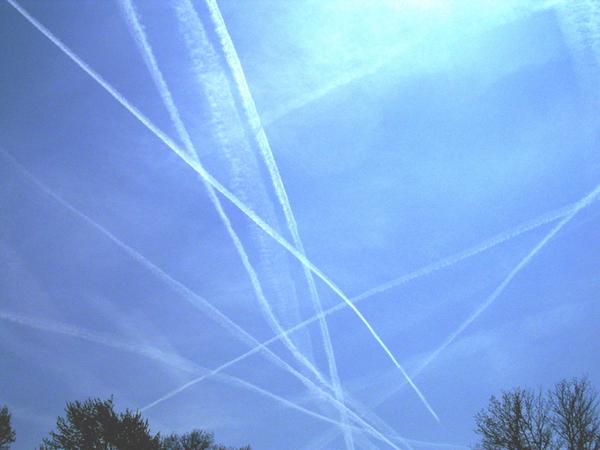 Chemtrails clearly seen.

I was living in Des Moines, Iowa, when this started and on the first day, few people noticed the bizarre display in the sky but everyone was talking about the sudden rise in respiratory illness and deaths among the elderly, infirm and infants there.

After the first spraying, my neighbor, a retired truck driver in his seventies, looked like he was about to drop in the driveway from coughing and he had a deathly pall, so I asked him to use one of my zappers. Thankfully, he did for an hour or so and the next day his complexion was rosy, he otherwise looked like a million bucks and was vigorously shoveling snow.

Eight years in the healing trade, making and selling zappers, had accustomed me to witnessing these extraordinary reversals but in the coming years the increasing endemics, as the biological and chemical weaponry of the chemtrails insinuated themselves from the lungs, into the other vital organs, especially the liver, caused me a lot of concern....

A couple of months ago, Doc von Peters agreed to formulate a remedy specifically intended to reverse the effects of these assaults and I distributed fifty samples of the 1-ounce bottles to selected customers, known personally by Carol and I, who fit the profile of the typical sufferer of this widespread malady. I gave it a month in order to get the feedback I needed in order to decide whether to sell it on our site, www.worldwithoutparasites.com and the results were so confirming that I'm very pleased to offer it for sale to anyone who has bought a zapper from me or from any other zapper manufacturer.

In fact, this little bottled remedy has far exceeded our expectations, as well as Dr von Peters'. We now sell this to people who have suffered from chronic conditions since long before 1999 and they're getting overwhelmingly positive and confirming results. In most cases, only one bottle is needed to restore people's vitality and health, I'm very happy to report.